Shady Grove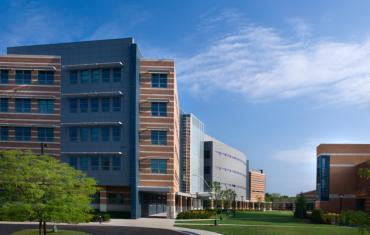 Address:
The Universities at Shady Grove
9630 Gudelsky Drive
Rockville, Maryland 20850
The Shady Grove Campus is located in the heart of the thriving I-270 Technology Corridor. Current students come from many bio-tech companies as well as other organizations such as Lockheed Martin, Marriott, NASDAQ, and Hughes Network Systems, and the Federal Government (NIH, FDA, etc.).
COVID-19 Campus Update
The Universities at Shady Grove (USG) operations are currently modified to protect the health and safety of students, faculty, and staff, given the continued challenges of the COVID-19 global pandemic. 
Below you will find updates from the Universities at Shady Grove administration on the status of campus for the Spring 2021 semester. For further details, please read the complete information on the USG Onward website. 
Indoor common areas, student lounges, conference rooms and break-out study rooms will not be open or permitted for use during the spring semester.
Outdoor campus seating is open for use (while practicing physical distancing and wearing a face mask) to any student or community member.
The parking system will be inactive during the Spring 2021 semester and parking will not be enforced.
To provide students with an additional option for high-speed internet access, the campus's WiFi network has been extended to the Shady Grove Garage.
Shuttle - UMD Service (College Park - Shady Grove)
The UMD Shuttle Bus Service operates between the UMD College Park Campus, Stamp Student Union and the Universities at Shady Grove on a Monday to Friday schedule. The UMD Shuttle Bus is FREE to all UMD students. For more information please visit: http://www.transportation.umd.edu/schedules.html
UPDATE: The UMD Shuttle Bus Service will not be operating during Spring 2021. 
Parking
Shady Grove Campus Parking is available off of Gudelsky Drive and Traville Gateway Drive. Hourly visitor parking is available in the Traville Gateway Drive and Shady Grove Road garages. Student parking permits are recommended for students visiting campus frequently. For detailed parking information or to obtain a permit, please visit: http://www.shadygrove.umd.edu/about/visit/parking
Computer Labs and Printing Stations
To obtain information on wireless please click on the following link: Wireless Information. Computer labs at Shady Grove are located in BLD I: 206 - 207 and BLD 3: 2103 - 2139. The hours are:
Monday - Friday 8:00 am - 10:00 pm
Saturday 8:00 am - 7:00 pm
Sunday 12:00 pm - 10:00 pm
There are 2 computer terminals with free printing access in the Masters Programs Office suite (BLD 2: 2012). The Bloomberg Terminal is located in the Smith Faculty Office space (BLD 2: 1352).
For more information about technology at the Shady Grove campus from the Office of Smith IT, please click here.
Smith Facilities at the Universities at Shady Grove
Inside the Masters Programs Office, MBA and MS students will find complimentary coffee, tea and water service. There are vending machines and a microwave for student use in the lounge at the top of the stairs on the second floor of BLD 2.
Study & Breakout Room Requests
Typically, Smith students taking classes at Shady Grove have the opportunity to reserve study rooms in BLD 3 using their University of Maryland ID number in place of a USG ID number. Students must have at least two people in their group to reserve a study room and note there are policies and reservation rules in place. 
Reservation systems are temporarily closed due to COVID-19.
The CRC consists of a workout room, an aerobics / game room, a lounge and a locker room complete with showers. In the workout room you will find an LCD TV. The lounge offers students and faculty a relaxing vicinity that includes a big screen plasma TV, several comfortable sofas and chess/checker tables. Please click here for their hours of operation.
The CRC is located in BLD 3, Room 2240 and can be reached at (301) 738-6299.
UPDATE: The CRC is temporarily closed due to COVID-19.
  
Green Grove Café and Corner Bistro
CulinArt Group is pleased to be your dining services provider at The Universities at Shady Grove and are located in BLD 3. Please click here for their hours of operation.
UPDATE: The Green Grove Cafe and Grover Cafe are temporarily closed due to COVID-19. 
Directions
Take I-270 N to Exit 6B – MD-28/W Montgomery Ave towards Poolesville/Darnestown. Go 1.5 miles and turn right onto Darnestown Road. Turn left onto Traville Gateway Drive. Turn another left to enter the Traville Gateway Garage. BLD 3 is visible first on your right, BLD 2 is located directly across, BLD 1 is behind BLD 2, and BLD 4 is currently under construction to open Fall 2019. All MBA classes are located in BLD 2. For more information, please visit the Directions & Transportation page on the Universities at Shady Grove website.