College Park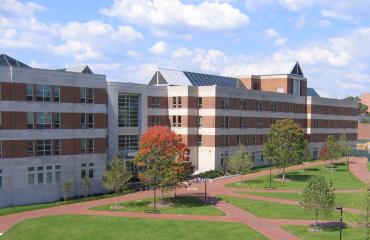 Address:
Van Munching Hall
7621 Mowatt Lane (for GPS)
College Park, MD 20742 
Located on 1,300 acres in suburban Maryland, the University of Maryland at College Park boasts a large, diverse graduate student body. The Adele H. Stamp Union is the campus focal point for student services. It houses a variety of eateries, a full-service bank, a U.S. Post Office service center, a 750-seat cinema, and a Ticketmaster outlet. The University Book Center is also located in the Union. Across Campus Drive from the Union, students can find quality health care at the University Health Center.
Students have access to a range of on-campus leisure activities. For the sports-minded, Maryland's intercollegiate athletic teams offer B1G competition at its best. There are a variety of athletic facilities that can be used by registered students. Located on North Campus, University Recreation & Wellness offers a variety of recreation programs including aquatics, fitness programs, informal recreation, intramural sports, outdoor recreation and sport clubs. CRS has some of the most advanced recreation, sports and fitness facilities in the nation. For information on facilities and programs, call 301-314-5454.
Campus cultural opportunities abound, including the Art Gallery - an accredited museum with a national reputation for its innovative exhibitions - and an impressive number of performing arts presentations, sponsored by the departments of theater, dance, and music.
The Student Services Team
The primary Masters Program Office is located in Suite 2308 in Van Munching Hall on the College Park campus. The student services team is located in this suite and available to answer any questions that students have. Find more information about your MBA or Business Master's program. 
Facilities in Van Munching Hall (VMH)
Computer Labs
There are several computer labs in VMH. Learn more about the computer labs in Van Munching Hall.
Office of Career Services (OCS)
The Office of Career Services is currently located in 2301 VMH. The OCS staff is available for a variety of career related services and workshops.
Rudy's Cafe
Rudy's Cafe is a cafeteria located on the first floor off the Grand Atrium. Breakfast, lunch and hot entrees are offered each day, as well as Starbuck's coffee, and snacks.
MBA Student Resources
Case Rooms: Group study rooms for MBA students are located on the second floor in the North Wing. To reserve a group study room, please use the Case Room Reservations scheduler. Quiet/individual study space is also available on the second floor (2333 A-D VMH) without reservation when events are not being held. Next to the study space is a kitchen where MBA students have access to a refrigerator, microwaves, and storage space.
Student Lockers: Lockers, storage space, and changing areas for MBA students are found within the Case Rooms. To reserve a locker for short-term use, students should visit the Masters Programs Office.
MBA Association Office: The MBA Association office is located in 2324 VMH.
Business Master's Student Resources
Study Lounge: There is a student study suite in 3300 VMH and a student study lounge in 3507 VMH that is just for Business Master's students.
Club Office: The primary student club has an office/meeting room in 3335 VMH.