Student Business Cards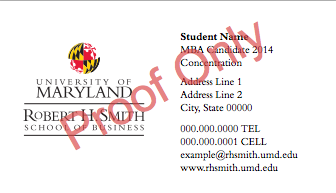 The Office of Career Services (OCS) encourages students to order and use business cards for networking with employers and alumni. Business cards are available from UMD Printing Services for a fee.

If ordered by September 30th each fall, 500 cards are $40; for orders placed after that date, 500 cards are $55.
You must order 500 cards to qualify for the discounted rate.
The business card template conforms to the Smith School's format and style and will be printed on recycled paper in compliance with University guidelines.
Cards ordered after Residency/Orientation will be delivered to the Office of Career Services (2570 Van Munching Hall) and distributed to students via their OCS Career Coach.
Students may request that cards be mailed to a home address (domestic mail only) for an additional $10 fee.
Full payment must be received by UMD Printing Services before they will be printed (see details below).
To order your business cards
Full-time MBA, Part-time MBA and Specialty Masters students must first contact Ms. Krystal Jenkins at the University of Maryland Printing Services Office via phone (301-405-5000) or via email kjenkins@mercury.umd.edu (link sends e-mail).
All students will be expected to make payment arrangements directly with Ms. Jenkins first by supplying her with the proper credit card details:
Credit card payment:
name as it appears on the credit card

type of credit card (MS, VISA, AMEX, etc.)

credit card number

expiration date
All other payment types:
If the student is unable to pay via credit card Ms. Jenkins may be able to provide alternative instructions
Once payment is authorized, students will receive a link from Ms. Jenkins with directions to create a business card.
Please direct questions to UMD Printing Services at 301-405-9500 or printing@mercury.umd.edu (link sends e-mail).
Student Business Cards will include:
Program Name (Note: the Masters Programs Office will confirm accuracy of Dual Degree program names submitted)

Year of Graduation (not required)

 

MBA Students Only: The Smith School MBA does not offer concentrations, but students can specify an area of interest to be included with the MBA degree if preferred

A mailing address  i.e., street address, city, state & zip code (not required)

A current phone number (highly recommended)

An email address (highly recommended)

Note: All student business cards will include the Robert H. Smith School of Business URL www.rhsmith.umd.edu only.

Personal website URLs are not permitted