Graduate Marketing Analytics Association (GMAA)
GMAA was established to enhance the academic, professional, and social experience of MS in Marketing Analytics students. GMAA provides networking opportunities to connect students with industry professionals.
2020 Officers:
Wei-Hsuan (Vivy) Hung, President 
Jiaqi Xu, Vice President of Administration
Yiyang Wang, Vice President of Marketing
Jiaxin Liu, Co-Vice President of External Relations
Tanisha Sabhaney, Co-Vice President of External Relations
Chuyu Zhang, Vice President of Finance
Advisor: 
PK Kannan, PhD
E-mail: gmaa@rhsmith.umd.edu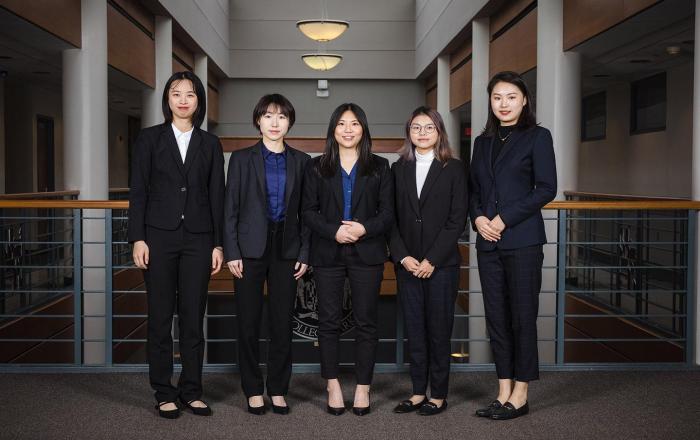 Constitution:  

Preamble
We, the members of the Graduate Marketing Analytics Association (GMAA), do hereby establish this constitution in order to strengthen connections of all Master students who are interested in Marketing Analytics among the entire Robert H. Smith community, to enhance the overall experience for its students, and to maximize the value of the Robert H. Smith brand.
Article I – Name
The organization's name is Graduate Marketing Analytics Association, hereafter referred to as "the GMAA", "the GMA Association" or "the Organization". The governing body of the GMAA shall be called the Graduate Marketing Analytics Association Board, hereafter referred to as "the Officers", "Executives" or "the Board". The GMAA shall be affiliated with the Smith Masters Student Association (SMSA).
Article II – Purpose
GMAA is established to enhance the academic, professional and social experience of Master of Science in Marketing Analytics students by providing a good network environment and coordinating all student-run activities.
The GMAA is charged with, but not limited to:
1. Promoting and enhancing the reputation of Robert H. Smith MS in Marketing Analytics program;
2. Enhancing the educational experience and professional development of all members;
3. Providing a good networking environment for the Smith community and enhancing communications among Marketing Analytics students, alumni, faculty, and professionals;
4. Adding value to the program by coordinating member-run events and activities.
In order to accomplish these efforts, the GMAA shall work in conjunction with the SMSA and other clubs. The GMAA abide by the University of Maryland policies in fulfilling its responsibilities.
Article III – Membership
Active membership shall be limited to current MS in Marketing Analytics students.
The Association does not restrict membership or discriminate on the basis of race, color, creed, sex, sexual orientation, gender identity, gender expression, marital status, personal appearance, age, national origin, political affiliation, physical or mental disability, or on the basis of rights secured by the First Amendment of the United States Constitution.
Article IV – Officers
GMAA will be led by the following officer positions: President, Vice President of Administration, Vice President of Marketing, Vice President of External Relations, and Vice President of Finance. All officer roles shall be held by currently registered MS in Marketing Analytics students. Officers are expected to attend the monthly club leader meeting with all SMSA officers and other affiliated club officers.
1. President will develop and implement overall strategy and vision for GMAA with all memberships, preside at all meetings of GMAA at which official club business is conducted. The President will maintain the power to appoint all committee chairpersons, organize GMAA and large-scale events and shall be present at no less than 80% of the meetings of GMAA. The President will facilitate partnerships with other student clubs.
2. Vice President of Administration will preside over officer meetings and represent GMAA at events and meetings in the absence of President, record and maintain all officer meeting minutes, maintain the storage of all documents (including electronic files), and take charge of GMAA membership recruitment.
3. Vice President of Marketing will promote GMAA events and activities via different channels, design and manage GMAA official website and all the social media accounts, be responsible for the announcement of all GMAA meetings, and oversee the collection of any student body data needed for GMAA strategy.
4. Vice President of External Relations will act as a liaison among the membership, the advisor, alumni and any other external relations, be responsible for facilitating alumni involvement in GMAA events, create and maintain an alumni database, initiate professional development events such as guest speaker events, workshops, and career panels, and get connection with guests.
5. Vice President of Finance will lead the development and implementation of the annual budget, handle all issues associated with incomes and expenditures, including acting as a liaison for GMAA to the SMSA for all financial matters and presenting annual financial reports to all Members.

Article V – Operations
1. Voting Eligibility
Those members meeting all requirements of active voting membership as set forth in Article III will be granted voting privileges.
2. Election Process
Board transition – Nov.:
i. Students with interest should submit an email to the GMAA email account with a brief introduction, resume, and at most two interesting positions;
ii. Current officers will interview prospective new officers.
iii. New officers will be elected by a majority of the current officer votes.
3. Removal
Any officer of GMAA in violation of the Organization's purpose or constitution may be removed from office by the following process:
i. A written request by at least three members of the Organization submitted to the primary GMAA email account.
ii. Written notification to Officer requested to be removed, asking this Officer to be present at the next meeting and prepared to respond to the removal request.
iii. A majority vote by current Officers is necessary to remove an Officer.
4. Meetings
All executive board meetings will occur on a weekly basis or other regular bases at a time selected by GMAA and will follow the procedure set forth below:
i. Attendance
ii. Report by President
iii. Committee reports
iv. Vote on all committee motions and decisions
v. Any other business put forward by the members of the organization
vi. Dismissal by the President

ARTICLE VI: Finances
GMAA will finance the activities it engages in by the following means:
1. Business School Departmental funds (including MPO, Academic Departments, Centers, etc.);
2. GMAA will submit a budget to the SMSA on an annual basis and request funding appropriate to the effective operations of the organization for each year; and
3. Fundraising activities and sponsorships in accordance with all University of Maryland policies.
ARTICLE VII: Amendments
The constitution is binding to all members of the GMAA. But the constitution is not binding unto itself. Changes to the constitution require the following steps:
1. Amendments to the constitution may be proposed in writing by any voting member of GMAA at any meeting at which 2/3 of the officers are present.
2. These amendments will be placed on the agenda for the next regular meeting of the executive council or other officer grouping.
3. Proposed amendments will become effective following approval of a majority vote of the officers.
4. The amended constitution should be released in a week.