Meet the Board
We are the 2020-2021 PTMBAA Board of Directors. We are excited to be serving you this school year! If you have comments or suggestions for how to improve the PTMBAA, please send us an e-mail at ptmbaa@marylandsmith.umd.edu.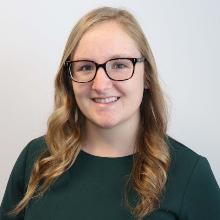 Mariah Pulver, President
Mariah is originally from Tucson, Arizona. After graduating from Texas Christian University with a Bachelor of Arts in Journalism and Political Science, she joined Textron, which brought many opportunities and moves along the east coast! Mariah finally landed in Baltimore and has been here for five years. She's had various roles in Marketing & Communications, and currently plans events and trade shows around the world. When not studying for her MBA, Mariah enjoys running, reading and spending time with friends.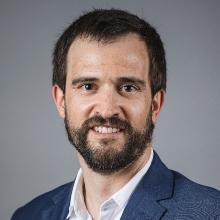 Sean Doughty, Chief Financial Officer
Originally from the Northwest, Sean received bachelors' degrees in English and Spanish from the University of Hawaii at Manoa and spent three years teaching abroad in Spain. Upon returning, he earned a master's in Hispanic Literatures and Cultures from The Catholic University of America. He began working with Johns Hopkins International Patient Services in Baltimore as a patient account manager in 2015 and, congruently, began managing the contracts and finances for a tech start-up in 2017. When Sean isn't working, you'll likely find him studying, but, assuredly, he is dreaming about someday having time for his hobbies: traveling, reading for pleasure, writing, playing the guitar, doing any kind of sports activity (especially surfing, snowboarding, rock climbing, basketball, or softball).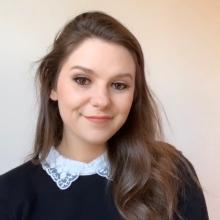 Shay Etches, Chief Marketing & Communications Officer
Shay is a born and raised Marylander and has called Baltimore a home for just over a year now. Shay is a Terp for life! She graduated with her Bachelor of Science in Marketing and Technology Entrepreneurship from the University of Maryland in 2018 and is thrilled to be back at the Smith school to pursue her MBA. She currently works as the Marketing Manager for a healthcare technology firm in the Baltimore area where she lives and breathes all things marketing and communications.
In her free time (what's that?!) she enjoys traveling, staying active, and spending time with friends & family.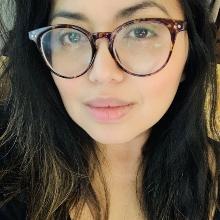 Diana Velasquez-Kolnik, Chief Special Events Officer
Diana Velasquez-Kolnik grew up in Silver Spring Maryland and obtained her bachelor's degree in Modern Languages and Linguistics from University of Maryland Baltimore County (UMBC). She is thrilled to serve on the PTMBAA and engage fellow students in exciting and engaging events. In her free time, she enjoys spending time with family, gardening, collaborating in technology projects and volunteering in community events.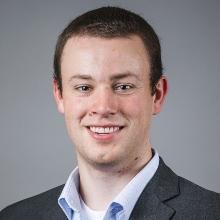 Matthew Speck, Chief Professional Development Officer
Matt is originally from Palmyra, Pennsylvania and has lived in the Baltimore area for the past three years. He graduated with a Bachelor of Science in Marketing from Penn State in 2015 and works in digital marketing for InVita Healthcare Technologies, a healthcare software company. Previously, Matt worked in advertising for two media companies and an ad agency prior to joining InVita. Matt is excited to help Smith students achieve their career goals and create the best possible MBA experience as part of the PTMBAA. In his spare time, Matt enjoys traveling, spending time outdoors and watching college football.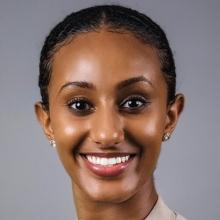 Ziky Ababiya, Chief Community Development Officer
Ziky Ababiya works at Booz Allen Hamilton as a management consultant and is passionate about improving access to health care and philanthropy.  She graduated from St. Mary's College of Maryland, where she received her Bachelor of Arts in Political Science and a minor in Anthropology. Before joining Booz Allen, Ziky started her career on Capitol Hill where she worked on health care policy for over five years. During her free time, she loves to travel and spend time with her family, especially her adorable nephew.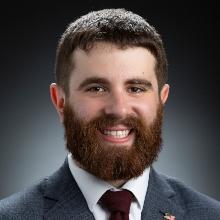 Dan Cohen, VP, Baltimore Campus
Dan is originally from Columbia, Maryland and has called Baltimore home for the past four years. He and his wife currently live in Riverside with their two dogs. Dan has earned a Bachelor of Science in computer engineering from University of Maryland Baltimore County as well as a Master of Science in electrical engineering from Johns Hopkins University. Dan has previously worked at the Department of Defense as a signals engineer. Since 2017 Dan has been at the Johns Hopkins Applied Physics Laboratory where he works as a cyber-physical systems reverse engineer. In his spare time Dan enjoys cooking, traveling, and spending time with friends and family.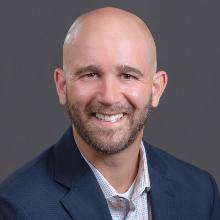 Nick Sunseri, VP, Shady Grove Campus
Nick is originally from Pittsburgh, PA and has called Northern VA home for the last 3 years.  Nick earned both his bachelors and master's degree in occupational safety from Indiana University of Pennsylvania. Nick works less than 2 miles away from the Shady Grove Campus at GSK as an occupational safety advisor focusing on injury reduction, incident investigation and increasing the safety culture and engagement of the site.  In his spare time Nick likes to trail run and drink beer.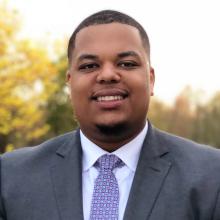 Mason Smith, VP, Washington, DC Campus
Mason Smith is a graduate of Morehouse College with a Bachelor of Arts degree in English. A native of Odenton, Maryland, he has been living in Fairfax, Virginia since 2017. Mason works as a technology sales representative for Oracle supporting state and local governments to solve business challenges. Mason landed at the Smith MBA program partly due to his family's recommendation as well as the school's reputation for success. His sister is a graduate of UMUC, and his mother is a graduate of the University of Maryland at College Park. So one could say "the writing's on the wall" for him to continue the tradition. In his free time, he enjoys cooking, yoga, fishing, and spending time with his younger brothers. Mason is excited to serve on the PTMBAA board and looks forward to fostering a more inclusive and valuable experience for his fellow students.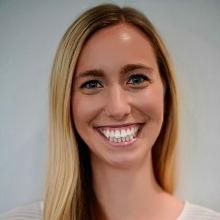 Tara Capelli, Chief of Staff
Tara was born and raised in Marlton, New Jersey and earned a Bachelor of Arts in International Affairs and Spanish from James Madison University. Upon graduation, she began working as a financial analyst for the Department of the Navy. She moved on to a project management role within the Navy, where she currently oversees a cross-functional team. Tara resides in Washington DC and enjoys being outside - whether it's hiking, doing yoga, or laying on the beach. Tara is excited to serve the Smith Community in her role as Chief of Staff!